March Members of the Month
We have some amazing members at Armor! To recognize and celebrate each other, we've decided to have a different coach each month pick two members they'd like to highlight. The coaches will express why they're choosing the members and we'll have an opportunity to learn more about the selectees in a blog post. Thank you for being a part of our community! This month's members were chosen by Coach Sam.
NATALIE YERA
I selected Natalie as the member of the month even though I know she will hate the attention (haha). Natalie has been engaged in learning since she started at Armor and has built her strength through her consistency and hard work. She is kind, humble, and always gives 110% in class. You might not know she was here since she's usually very quiet and reserved, but when she's accompanied by her husband David (also an awesome member) you are sure to notice them as he's pretty energetic and social. I also really like Natalie because of her confidence- even if you don't know her well it's evident she is a confident woman and believes in herself, which is inspiring to me and I'm sure other members!
Q&A
When (and why) did you What motivates you most to give your best in every class?

The competitiveness, keeping up with the class and other members drives me to push myself (and try to beat David, my husband, since he can lift heavier than me… for now).

What is your favorite movement? Least favorite? And why?

I like to deadlift, I think it's a powerful movement especially as a female I'm able to engage the lower half of my body and feel like that's where most of my strength is derived. I can increase in weight quickly. Least favorite is overhead snatching, I have some fear of having the weight in that overhead and don't want to drop it on me. It causes me to pause during pulls sometimes.
Have you noticed any significant changes in yourself or your life starting CrossFit at Armor?

I feel like I am getting more confident and stronger. I'm not really in situations where I need to test or prove my strength abilities in everyday life, but I know that if situation(s) arise I'd be confident in my abilities. I also enjoy running, and I feel like my general speed/ recovery has improved.
If you could go anywhere in the world, where would you go and why?

I would love to go to South Africa, I think it would be amazing to explore and experience the culture and history. I would also like to travel to Mallorca, Spain since my ancestry is from there and it would be cool to experience that family history.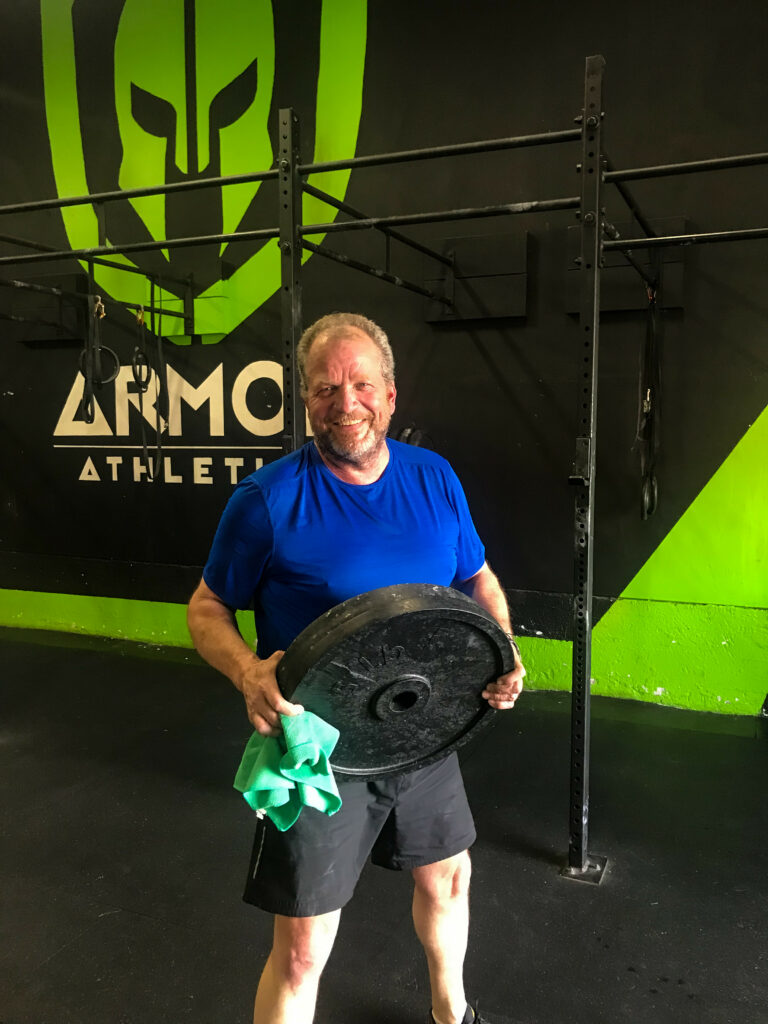 Jens Kohn
Although Jens has been coming to Armor since the beginning of time, I didn't really "meet" or get to know him until we became the owners. I'm bummed I missed out on years of knowing him, because he is pretty awesome! Jens is always in a good mood and works extremely hard. Another thing I like about him is that even if he is working with mobility limitations with certain movements he will scale to still be able to get the most out of his workout, which isn't "uncommon" for members, but he doesn't get frustrated or discouraged for scaling or subbing movements and still pushes to do his best. He's also a great "cool down walk" partner, so maybe join him next time!
Q&A
How has your training at Armor translated into other areas in your life?
Increased flexibility, strength, and endurance.

(*SAM IS GOING TO ADD IN THAT HE'S A BADASS SKIER, AND I'M SURE CROSSFIT HELPS)

Where have you seen yourself progress, and what areas are you working on?
I have progressed in the amount of weight I can lift and the conversion of fat to muscle. Working on trying to someday do a perfect burpee.
If you could only eat one food for the rest of your life, what would it be?

Pizza, I am a self-professed pizza snob. I have been making gourmet pizza from scratch almost every weekend for the past 15 years.
What is your mindset/self-talk when you are in the middle of a workout?

OMG I'm 62, I can do this. I have to keep moving. This class is only an hour long.