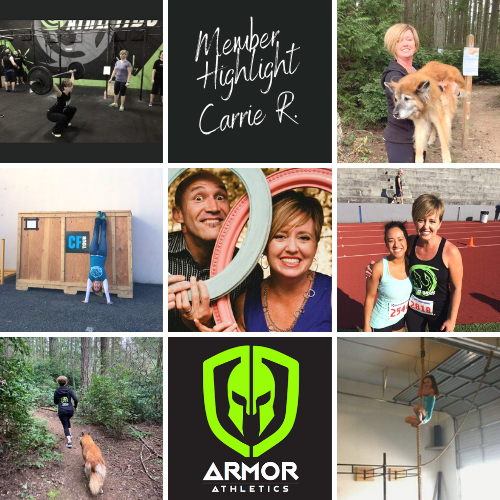 Member Highlight – Carrie R.
We know it can be challenging to meet new people at the gym,  especially if you come to the same class every day. We want to take some time to highlight one of our members each month. Carrie has been a member at Armor for several years. She is an asset to our community and a testament to the benefits of consistency and hard work over a long period of time. She always shows up with a smile on her face, ready for the workout of the day. Check out the link below to learn more about Carrie and some of her tips and tricks to staying consistent through the years. 
1. What's the secret to staying consistent through the years?
The way I've stayed consistent (for the most part) at Armor is:
The second I walk in the door, the stress and worries of my day disappear, and when I walk back out I feel like I've had the best mental break and reset. It's just a matter of walking through the door.
If I miss more than a few days, I know from experience that it's going to be harder to catch back up. I want to make sure I'm not too winded and out of shape to make progress next time, so I keep coming back.
I've had friends at the gym who make me show up at certain class times so we can hold each other accountable!
2. Why Do You work out at Armor Athletics?
I work out at Armor specifically because the premise/vibe/feel of the gym from the beginning has always been about overall health with really caring and down to earth people. Zach uses his expertise to make sure everyone is correctly performing movements during the varied and well-thought-out exercise programs, the knowledgable trainers always pay special attention to every single member, and the awesome members are all about community…it is my favorite gym ever.
3. What is your favorite Personal Record (PR) ever?
1. Climbing the Rope
I had to work hard to get the footwork right, but I couldn't believe it when I first made it to the top. However, then I had to figure out how to get back down!
2. Back Squat
The coaches worked with me to help me PR my back squat at just under 200 lbs. I had no idea I could do that.
3. Strict Pull-Ups
I completed 2 & 3/4 super strict pullups after Zach had us do a pullup challenge for 30 days and it actually worked!