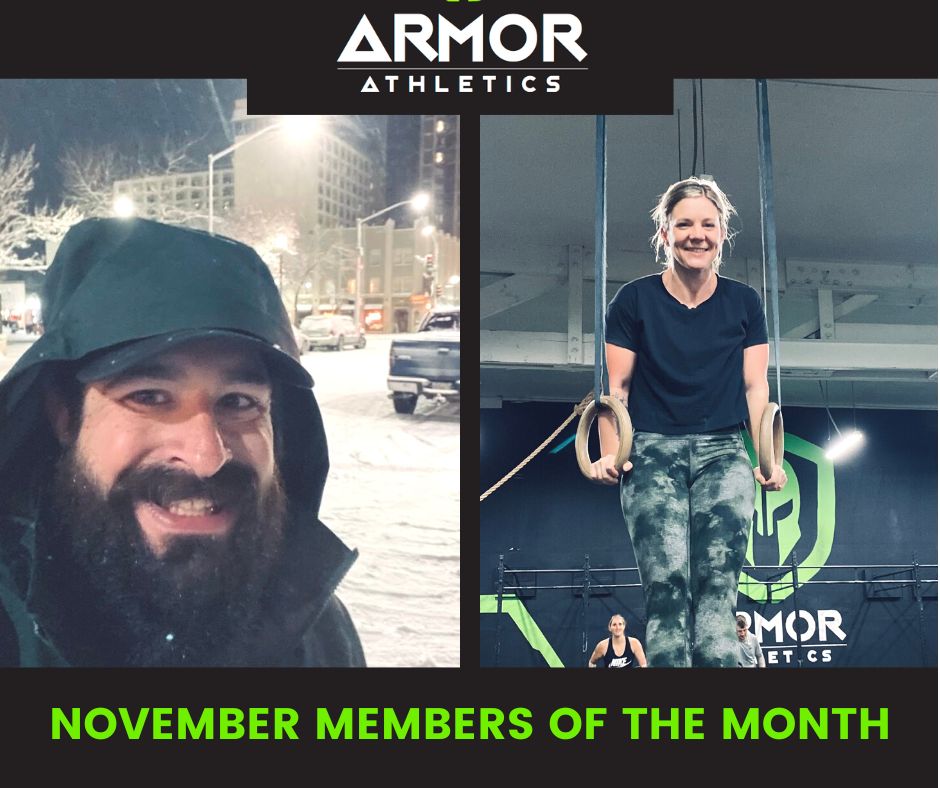 November Members of the Month
We have some amazing members at Armor! To recognize and celebrate each other, we've decided to have a different coach each month pick two members they'd like to highlight. The coaches will express why they're choosing the members and we'll have an opportunity to learn more about the selectees in a blog post. Thank you for being a part of our community! This month's members were chosen by Coach Anthony.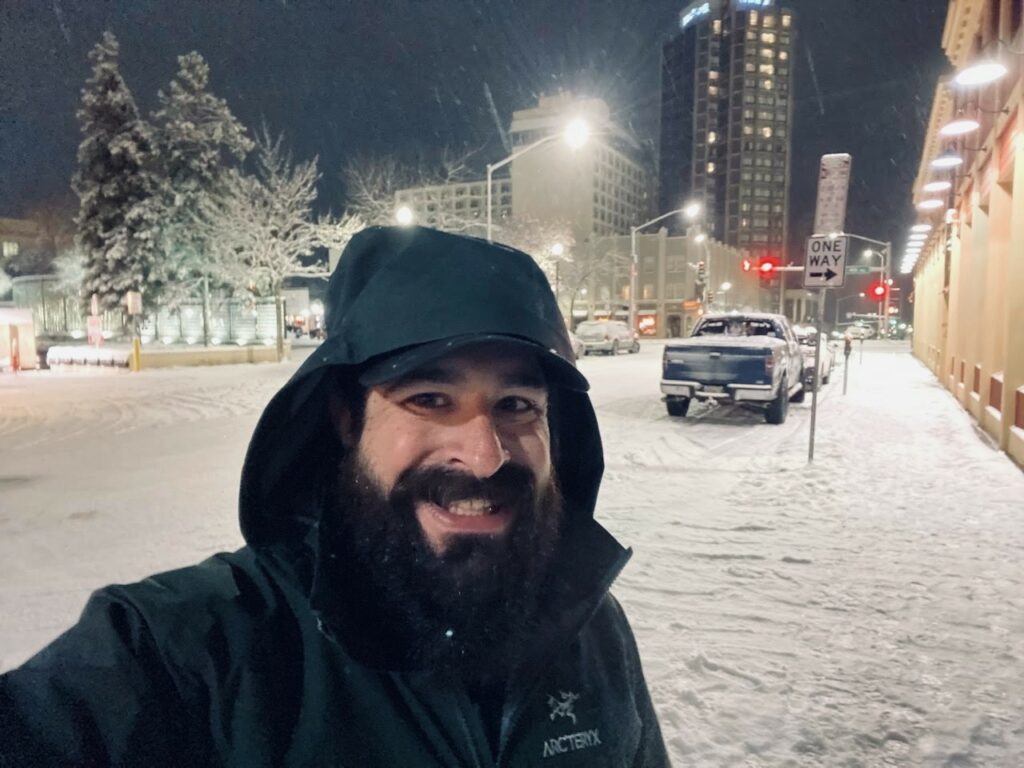 Andrew Salmon
Since meeting Andrew, he has shown vast improvements in his movements. He shows up consistently every week and crushes workouts. Andrew has a great attitude and is a fun guy to be around! I always look forward to goofing around and cracking jokes with him! Also, has a great beard. I would even go as far as saying… best in the gym.  
Q&A
What do you think the most rewarding thing about starting CrossFit has been?
The most rewarding thing has been understanding my body and pushing it to the limits in a controlled environment. Also, the community I have built and the motivation from each member has been amazing. 
How do you motivate yourself/ what motivates you to give your best during every workout?
I understand how much better I feel after a workout and over the past six months have seen great changes physically and mentally. My mental health has improved. I look forward to the workouts because the benefits I have seen. I love the gym environment and the team we have built around us. Even if I do not feel 100%, someone during class will say something motivating. 
What is your favorite meal of the day, and what do you usually have?
my favorite meal is lunch and I often times build burritos bowls and try to duplicate Chipotle. 
What's one quality or attribute about the coaches at Armor that you appreciate the most?
The motivation and dedication for all members to succeed. Regardless of the strength, each coach takes the time to ensure we are lifting correctly and getting the most out of our body. Coach Tom and Anthony have motivated me to lift heavier than I ever have. I feel strong and controlled when lifting.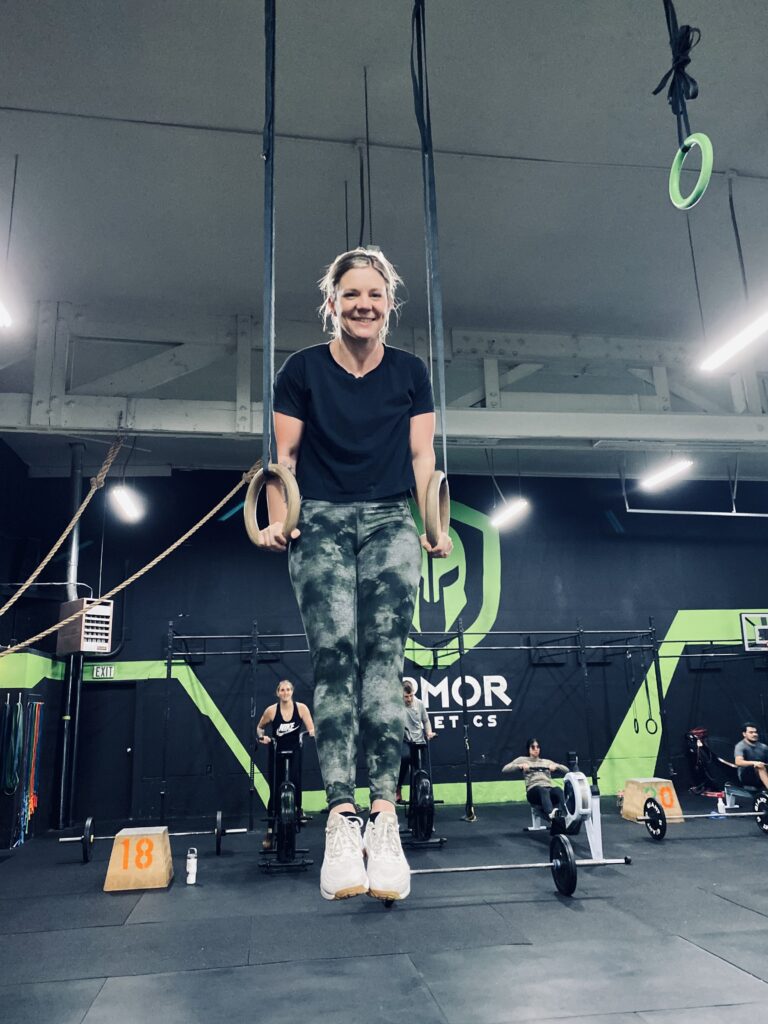 Brooke Leonelli
From the best state in the land… Ohio! It's been a blast getting to know Brooke, she has a great sense of humor and is fun to joke around with. She works incredibly hard; from Olympic lifting to destroying Metcons all in the same afternoon. A great athlete, and a genuinely kind person! 
Q&A
As an Olympic lifting and CrossFit athlete, what are your favorite movements/ types of workouts and why?
My favorite lifts in Weightlifting are the snatch (because nothing feels more badass than that moment when you receive the bar perfectly in the bottom of a squat) and anything overhead. I especially love the split jerk because it has taken me years to correct my straight back leg (that now bends!) and I feel really proud of how much I've improved this lift. Big shout-out to my coach Mike Cerbus. In CrossFit, I love strict and gymnastics movements, like strict pull-ups and handstand pushups, handstand walks, and ring muscle ups, as well as box jumps. They're fun and I love explosive and/or high-skill movements.
What have you learned about yourself while recovering from an injury that impacted your love and dedication to fitness?
I've learned a tremendous amount about myself during this last year while recovering from knee surgery. First, I've realized how resilient (or as my husband might say, stubborn) I am. Recovery has been immensely challenging but it has been helpful to think of recovery as my new sport, so I treat it with the same level of training and dedication that I treat all other aspects of Weightlifting and life. Second, I've been forced to learn extreme, unwavering patience. Some days are really hard and I have to battle negative thoughts and self-doubt. Using visualization to see myself on the platform competing again helps on the hard days. Most importantly, I've learned that I'm more than just a Weightlifter. I'm a wife, clinical psychologist, friend, and Soldier. My life feels even fuller now that I'm able to commit to my values in more areas. Despite all of it, my love for Weightlifting has never wavered. If anything, experiencing something so traumatic that has taken me away from what I love for so long has only made me hungrier to get back on the platform. As Dr. Afremow, renowned Sport Psychologist said, "You need to learn to love your comeback more than you hate the setback." 
What is your favorite type of music to listen to?
 I listen to and love almost all types of music, ranging from rap to heavy metal to musical theater! Some of my favorite artists are: Maneskin, Hozier, Idles, Jinjer, MGK, Paramore, and Morgan Wallen. My husband and I have a playlist on Spotify that's pretty eclectic and we love to listen to when making dinner or hosting company.  Also, if you've never heard the Beetlejuice the Musical soundtrack, you're missing out on something special…
Has the community at Armor been different from other gyms you have been with? Why?
With 10 years of CrossFit under my belt, I've experienced my fair share of gyms! Although I'm still pretty new to Armor and meeting everyone, one thing I've noticed is that Joe and Sam genuinely care about their members (in a way that's actually reflected in their behaviors). At Armor, I trust that if I'm struggling, someone will notice and will check in on me. Plus, I've met so many delightful humans at Armor already that put a smile on my face when I see them. I also love that Armor hosts lots of fun events and I'm so looking forward to the holiday party!